Asha Cotton Industries engaged Manufacturing and Exporter of Raw Cotton Bales. Company Has Large Infrastructure and Textiles Ministry of India Approved Hi Tech Machinery for Produce Cotton Bales,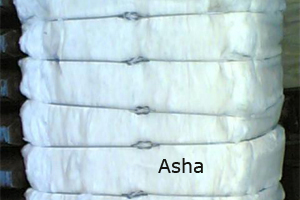 Company's ginning and Pressing Unit Located at Mahuva (Dist - Bhavnagar Saurastra) is a Place Where Majority of cotton farm, So Company Has Quality Raw material Available in Best Rate.
Cotton Bales it is cotton packed in bales form. This cotton says as Shankar-6 variety, it is produced in only Gujarat (India). Cotton bales are a result of Ginning and Pressing Process of cotton. Our Ginning Unit separate cotton fibers and seeds from Cotton crop, Wes use only best quality raw materials to ensure a highly reliable production. We taking Care during the complete mechanical process of produce Cotton bales.
Raw Cotton / Bales Storage Capacity:
# Area for Raw Cotton: 20000 sq. ft. RCC Plat Form
# Covered Shade for Bales: 300 x 60 sq. ft.
Characteristics (In HVI Mode) :
# Staple length : 28 mm to 30 mm
# Strength : 27 to 30 gm / tex
# Color Grade: 21-1, 31-1 Near about GM Grade, Reflectance- 78%, yellowness- 7.8
# Microniare : 3.8 to 4.3
# Uniformity Ratio : 83%+
# Elongation : 5.5 to 6.5 %
# Maturity : 72+ %
# Trash : Below 1.5%