Asha Cotton Industries is
TMC
(Technical Mission on Cotton, Approved by Textile ministry of India- Govt. of. India)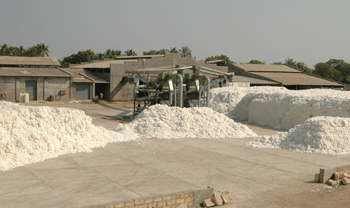 approved Ginning Pressing Company. The Company is founded by our Chairmen
Dr.B.T.Valia
in 1998; we engaged in manufacturing and export of best quality
cotton bales
,
cotton seeds, cotton cake, Peanuts
and
Sesame Seeds
in all principal word market and to the end users in the major word market. We are professionally managed company having large network and infrastructure in home as well as abroad, company is equipped with state-of-art infrastructure backed by large and fully automatic plant for cotton to cotton bales.
Company has its roots since, the begging of
cotton Ginning & Pressing
in this region. Having in-depth knowledge of this business help us to delivering optimum result in specified business challenges apart from global computation with our futuristic approached we have increased our capacity to 200% in last four year. This yields overall increases in turn our of company to supply good quality cotton word wide.
Asha Cotton Industries is located at MAHUVA, District - Bhavangar (Saurashtra-Gujarat – India). Bhavangar district is the place which totally irrigated. About 100% of agriculture land is irrigated that's why the quality & production ratio of the cotton of this station is better than the others.
The company is spread over 47000 square yard and equipped by the latest machineries & technology for ginning and pressing cotton & crushing of cotton seeds. We have more than 36 double roller ginning machine, latest Ginning machineries, approved by government of India ministry of textiles through TMC project and gives AA grade.
Using all of these machineries and paying more hard-work the company is now able to GIN 1,85,000 Kg. of Raw Cotton per day. The company is also able to produce more than 400 cotton bales(170Kg) per day.